SAF-Bhutan 2017 - Annual Report
9th December 2017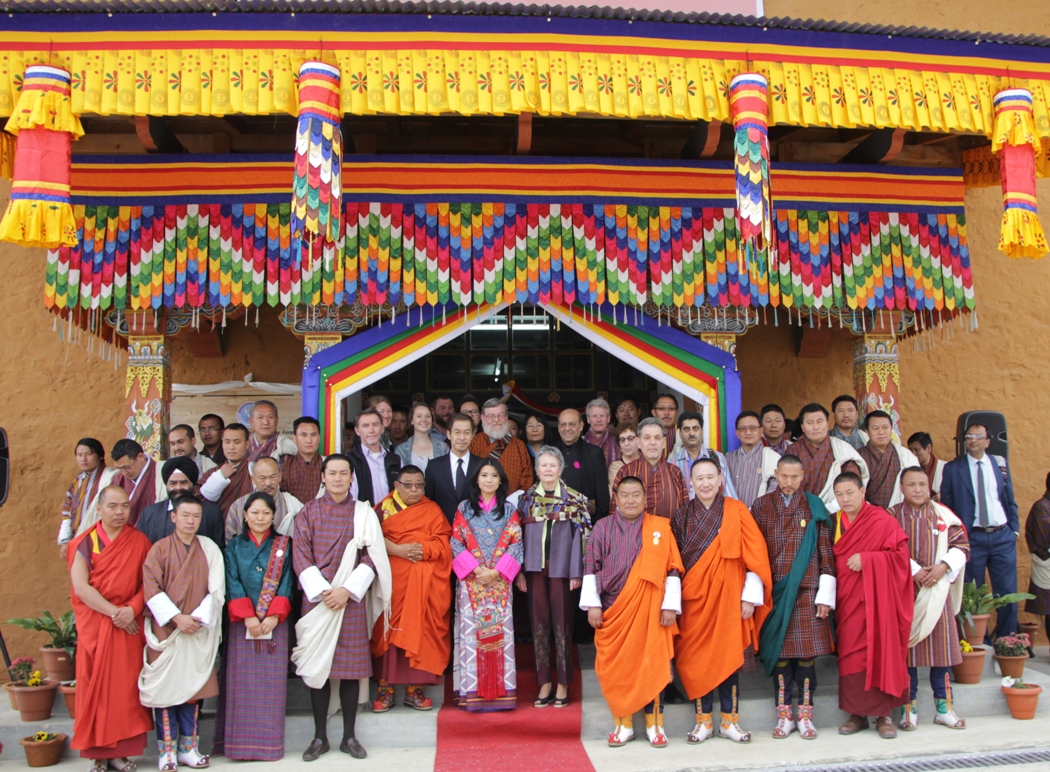 A. Registration of SAF as Bhutan Jamchong Thuendel Foundation
SAF Bhutan is pleased to report here that after almost two years of going back and forth with the Civil Society Organisation Authority (CSOA) of Bhutan, we have made a presentation to the CSOA Board on 6th December 2017 under a local name "Bhutan Jamchong Thuendel Foundation" (BJTF); which means "Bhutan Foundation of Compassion and Goodwill". The COSA Board directed to submit the following documents for final registration:
– A letter from the SAARC Secretariat stating that SAF is recognized by SAARC
– A letter of collaboration from the Ministry of Education and Department of Disaster Management.
– A copy of MOU with Ministry of Agriculture and CNR, RUB
The Lotus in the middle with 8 petals represents the eight SAARC Countries.
The intent of the Foundation is to help in promoting Regional Cooperation, Peace and Harmony through Education, Cultural interaction and mutual understanding among the people of South Asia through youth related activities. It is hoped that BJTF would achieve its goal through activities such as Youth Friendship Camps; Cultural Exchange Programme, opportunities to carry out research in areas related to South Asia Forest in collaboration with other SAF Countries.
B. Madanjeet Group Scholarship:
Like in the past, for the various programmes under Mandanjeet Group Scholarship in 2017, 5 candidates have been selected from a total of 13 applicants. The office received maximum number of applicants for Water Resource Engineering and Green Technology. The details of 2017 selected candidates are as follows:
Name

Work place

Program

Place of study

Ms. Karma Yangzom Dorji

ST Construction

Masters in Water Resource Engineering & Management

University of Moratuwa, Sri Lanka

Mr. Rohit Adhikari

APECS Consultancy

Mr. Prakash Ghimirey

Graduate

Post Graduate Diploma in Journalism

ACJ Chennai, India

Mr. Deepak Upreti

Ayutthaya Vocational College, Thailand

MA South Asian Studies

Pondicherry University, India

Mr. Ajay Chhetri

Gaseb Construction

Masters in Green Technology

Pondicherry University, India
However, we did not get any offer from Pakistan for the year 2017. Unfortunately we were able to send only one candidate for MA in South Asian Studies as the second candidate withdrew due to family problems. Nepal offers only one scholarship once every four years in BA Sustainable Development Program. As of now one has graduated and the second candidate is studying in 2nd year.
We are pleased to report here that all the candidates are doing well in their place of studies with very few hitches.
Views of students currently undergoing various programs under Mandanjeet Group Scholarship:
Mr. Prakash Ghimirey, (New Media) Asian College of Journalism, Chennai says:
"A fascinating experience with very experienced professionals as well as visiting faculty from reputed organizations like the BBC and The Hindu. An 'integrated newsroom' provides us the experience of working in a 24x7 multimedia newsroom. I am very fortunate to have been awarded this scholarship".
Working in Integrated Newsroom Learning camera technique
Mr. Deepak Upreti (Masters in South Asian Studies) Pondicherry says – "Facilities like room, safety and security are excellent".
Welcome show.
Alumnae

Over 65 Bhutanese students have benefited from Madanjeet Group Scholarship and most of them are doing well in various organizations.
Ms. Zuku Nima and few others are active artists at VAST Bhutan. They also do a lot of freelance designing and illustration works at VAST.
Ms Zuki has been participating in many exhibitions, SAARC art camps and Asian Biennales. These are some of her art works at VAST
Feedback from the students:
ü There are very few books for Masters in Green Energy Technology at the University library.
ü The process of availing the degree certificate is delayed after completing the course.
ü The kitchen facilities at Pondicherry University for students of South Asian Studies need to be improved.
ü Students of Pondicherry have raised their difficulty in meeting their expenses with a stipend of Rs. 10,000.00. With the current GST tax and inflation the amount is not sufficient so the issue could be taken into consideration
C. Report on UNESCO Madanjeet Centre for South Asia Forestry Studies: 2017 (UMCSAFS)

Scholarship Recipients:
As of now 10 students have graduated from Bangladesh, Bhutan, India and Nepal. Currently 8 students are undergoing their degree studies. UMCSAFS is yet to get a student from Pakistan to study B.Sc Forestry. A student from Maldives left the scholarship a month back and we are yet to hear the reasons from her as well as from SAF –Maldives.
| | | | | |
| --- | --- | --- | --- | --- |
| Country | Graduated | Current | Discontinued | Total |
| Afghanistan | 0 | 1 | 1 (2013) | 1 |
| Bangladesh | 3 | 0 | | 3 |
| Bhutan | 5 | 3 | | 8 |
| India | 1 | 1 | | 2 |
| Maldives | 0 | 1 | 1 (2017) | 1 |
| Nepal | 1 | 1 | | 2 |
| Sri Lanka | 0 | 1 | | 1 |
| Total | 10 | 8 | 2 | 18 (2 dropped out) |
Afghanistan – 01 India – 02 Pakistan – 00
Bhutan – 08 Maldives – 02 Sri Lanka – 01
Bangladesh – 03 Nepal – 02
Students Activities:
Mr. Sunil Sapkota, a Madanjeet scholar from Nepal participated in the 13th Conference of Youth (COY) in Bonn, Germany from 2 - 4 November 2017.
Mr. Sunil Sapkota is a very active member of the international Plant-for-the-Planet Children´s and Youth Initiative and participated at the Plant-for-the-Planet Youth Summit 2017 to represent the youth of SAARC.
An open mobile video competition was organized by Madanjeet Group Scholarship Students for the students studying at the College of Natural Resources. It was participated by 7 groups comprising of 41 students from the college.

Meeting with Students:
- Two meetings with students were conducted
- One meeting within the students to deliberate on some issues and plans to contribute to the college and the community.
Advisory Council Meeting:
UNESCO Madanjeet Centre for South Asia Forestry Studies [UMCSAFS] conducted its first ever Advisory Council meeting since its establishment. The council never met as it was difficult to get participation of "One SAF Trustee and 4 subject experts nominated by SAF founder (2 from SAARC countries)" as required by the Memorandum of Understanding [MoU] signed between the Ugyen Wangchuck Institute for Conservation and Environment [UWICE] and the South Asia Foundation [SAF], for the establishment of Madanjeet Singh Center for South Asia Forestry Studies at the UWICE on March 17, 2010.
However, this year UMCSAFS decided to conduct the meeting considering the importance of such meeting and also to propose the change in members during the revision of MoU. The first Advisory Council meeting was chaired by Honorable Secretary, Ministry of Agriculture and Forests.
The following were some of the resolutions of the meeting:
ü The members proposed for change in Advisory Council Members of UMCSAFS: It was suggested that doing away with subject experts and in place of subject experts, Director, Department of Forests and Park Services and Administrative Officer, Ugyen Wangchuck Institute for Conservation and Environmental Research to be added as new members. SAF Bhutan office to represent the Trustee member.
ü Subject experts from SAARC countries as well as from within Bhutan to be invited to deliver talks to the students at CNR
ü MoU between SAF and Ugyen Wangchuck Conservation and Environmental Research Institute has expired and need to be renewed. A draft revised MoU is attached for endorsement from the UMCSAFS Advisory Council and Governing Council members prior to signing.
Fund Release and Utilization
Audit – Since SAF requires UMCSAFS to provide with Audited accounts while asking for release of annual funds, the Advisory Council advised that UWICER should write to Royal Audit Authority requesting to include in their yearly plan to audit Madanjeet account by July every year or explore the possibility of having the Madanjeet account audited by the internal auditor.
Budget plan– Advisory council endorsed the following:
Regional data analysis training – Nu. 0.8 Million
Inviting eminent speakers – Nu. 0.6 Million
Equipment procurement – Nu. 0.3 Million
Taxonomic guide book procurement – 0.5 Million
Student Issues:
There have been cases where some of the students have difficulty in coping up with the Degree Program due to inadequate working knowledge of English. Therefore, it is necessary to have more efficient selection procedure to avoid such problems. Further, we need to have a common system in place to deal with students who leave during the session to avoid wastage of resources.
In conclusion we would like to thank SAF for the continuous support and wish you all a fruitful Governing Council Meeting.