SAF Scholars Report and activities from UNESCO Madanjeet Singh Green Energy Technology (UMSGET)
List of SAF Alumni (Highlighted:Four SAF Gold Medalists Alumni )S.No
| | | | | |
| --- | --- | --- | --- | --- |
| | Name | Gender | Nationality | Batch |
| 1. | Dayanidhi Mohanta | Male | India | 2010-2012 |
| 2. | SarveshPratapMal | Male | India | 2011-2013 |
| 3. | M.A. YasirRasmy | Male | Sri Lanka | 2011-2013 |
| 4* | AI-JumlatAhmed | Male | Bangladesh | 2011-2013 |
| 5. | SujoyBarua | Male | Bangladesh | 2011-2013 |
| 6. | MohmedHedayadullah | Male | India | 2012-2014 |
| 7. | RanjanBhatta | Male | Nepal | 2012-2014 |
| 8. | Shougat NazbinKhan | Female | Bangladesh | 2012-2014 |
| 9. | JalauddinShahunda | Male | Afghanistan | 2013-2015 |
| 10. | Bijaya Babu Khatri | Male | Nepal | 2013-2015 |
| 11. | Mohammad Nyme Uddin | Male | Bangladesh | 2013-2015 |
| 12. | Md. RashedulHaque | Male | Bangladesh | 2013-2015 |
| 13. | Md. Wazedur Rahman | Male | Bangladesh | 2013-2015 |
| 14. | Dawa Norbu | Male | Bhutan | 2013-2015 |
| 15. | Rajesh Kumar | Male | India | 2013-2015 |
| 16. | Alfa Sharma | Male | India | 2013-2015 |
| 17. | Mohamad Imran | Male | India | 2014-2016 |
| 18. | Nithin Xavier | Male | India | 2014-2016 |
| 19. | Tikaram Khadka | Male | Nepal | 2014-2016 |
| 20. | Deepak Acharya | Male | Bhutan | 2014-2016 |
| 21. | NajibaTahari | Female | Afghanistan | 2014-2016 |
| 22. | Ganesh Prasad Giri | Male | Bhutan | 2014-2016 |
| 23* | TasnuvaHamid | Female | Bangladesh | 2014-2016 |
| 24. | BibaswanDas | Male | India | 2015-2017 |
| 25. | Md. Sultan Mahmud | Male | Bangladesh | 2015-2017 |
| 26. | Marzia Puya | Female | Afghanistan | 2015-2017 |
| 27. | Md. Shihab Uddin | Male | Bangladesh | 2015-2017 |
| 28. | Nirmal Pudasaini | Male | Nepal | 2015-2017 |
| 29. | Kubra Mahmoodi | Female | Afghanistan | 2015-2017 |
| 30. | Dil Bdr. Tamang | Male | Bhutan | 2015-2017 |
| 31* | Yogesh Dahal | Male | Bhutan | 2015-2017 |
| 32. | Sreelakshmi | Female | India | 2016-2018 |
| 33. | RiteshPradhan | Male | Bhutan | 2016-2018 |
| 34* | AbilashaBhuju | Female | Nepal | 2016-2018 |
| 35. | ShreyashRaj Suwal | Male | Nepal | 2016-2018 |
| 36. | Habiba Sadeqi | Female | Afghanistan | 2016-2018 |
| 37. | Mohammad Ehsan Rahimi | Male | Afghanistan | 2016-2018 |
| 38. | Ajay Chhetri | Male | Bhutan | 2017-2019 |
| 39. | Ankit Bhattarai | Male | Nepal | 2017-2019 |
| 40. | Murtaza | Male | Afghanistan | 2017-2019 |
| 41. | Ragul Kumar Patel | Male | India | 2017-2019 |
| 42. | Zarifa Arzoo | Female | Afghanistan | 2017-2019 |
---
SAF Scholars Activities


On 27th Convocation held in Pondicherry University on Monday, December 23, 2019, Ms. Abhilasha, SAF Alumna from Nepal, received Gold Medal in person (she stood the first rank in MTech Green Energy Technology).


Career Profile of Some of SAF M.Tech . Alumni at UMSGET
| | |
| --- | --- |
| Name of Scholars | Working/ Studying at |
| Yasir Rasmy (Sri Lankan) | –Deputy Director, SLGTI. |
| Bijay Babu (Nepal) | –Electrical Engineer at Nepal Electricity Authority |
| Ranjan Bhatta Nepal) | –Manager, FNCCI-UN-HABITAT Green Homes |
| Rasheedul Haqe(Bangladesh) | -Faculty at United International University |
| Bijay Babu (Nepal) | –Electrical Engineer at Nepal Electricity Authority |
| Md Nayeem (Bangladesh) | –Lecturer, Dept of Civil Engineering at Port City |
| Md. Wazedur Rahman(Bangladesh) | – Ph.D. University of Alberta |
SAF Scholars Alumni Association on Facebook
SAF gives us the platform to promote regional cooperation and peace, share and collaborate cultures between the eight SAARC countries. Our main objectives are to continue this great initiative of dear UNESCO Goodwill Ambassador Madanjeet Singh.
The current activities of SAF Alumni web page are mainly based on social media. I am pleased to share the following facebook page link of SAF Scholars Alumni Association (https://www.facebook.com/SAFScholarsAlumniAssociation/), where we are interacting with viewers and SAF Alumni's to spread news of SAF about SAF scholars, give advice and guidelines to the new scholars thus they can join our group as an alumni in future, publish story about our successful alumni thus others get inspiration and so on. We have an alumni committee where representatives are from eight SAARC countries and five SAF institutes.

-Md. Wazedur Rahman
SAF Alumnus, UMSGET
& Doctor of Philosophy (PhD),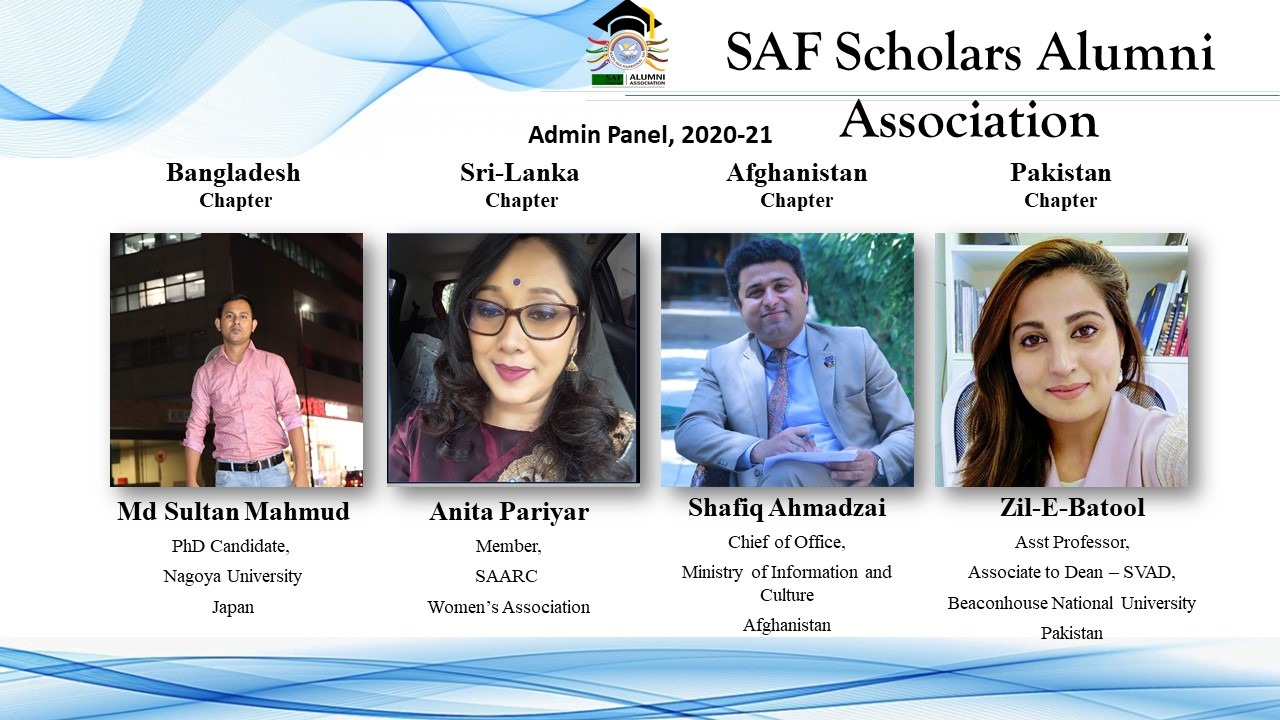 SAF Scholars Alumni Association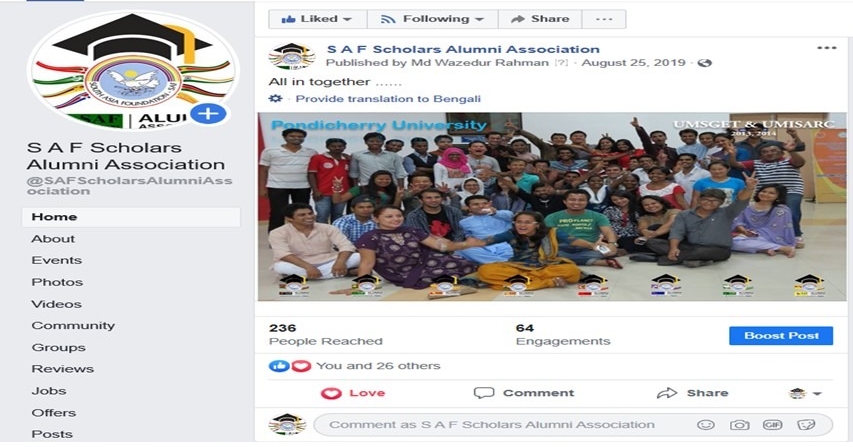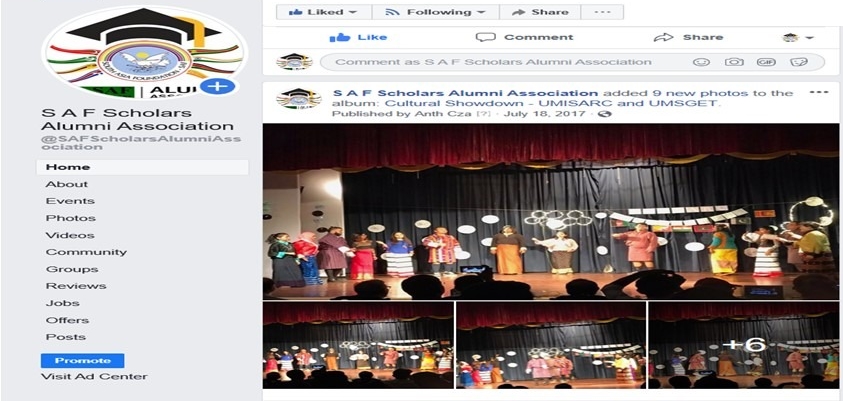 Battery Day at UMSGET



Special lecture by UNESCO office Director Eric Falt


Puducherry, Feb 10 (UNI) Mr Eric Falt, Director and UNESCO Representative to Bhutan, India, Maldives and Sri Lanka ,New Delhi addressed a special lecture at the Centre for South Asian Studies-UMISARC, Pondicherry University on "The Futures of Education" on February 7 2020.

A University release on Monday said, Mr Falt explained the importance of civil society and local communities on the future of education at global level and the development of educational strategies in South Asian countries. He highlighted the five critical dimensions of sustainable goals like people, prosperity, partnership, planet and peace and expressed the UNESCO's willingness to enrich the educational standards and regional development by the universities concerned. Mr Falt emphasized on the need of acquiring necessary transferable skills such as critical thinking, emotional intelligence, creativity, digital literacy, innovation and entrepreneurship for getting employed in the future.

PU Vice Chancellor Prof Gurmeet Singh welcomed the gathering.

Souce:- http://uniindia.com





Thermoelectric Reseach & Application Prospect in South Asia by UMSGET Alumni on Facebook Live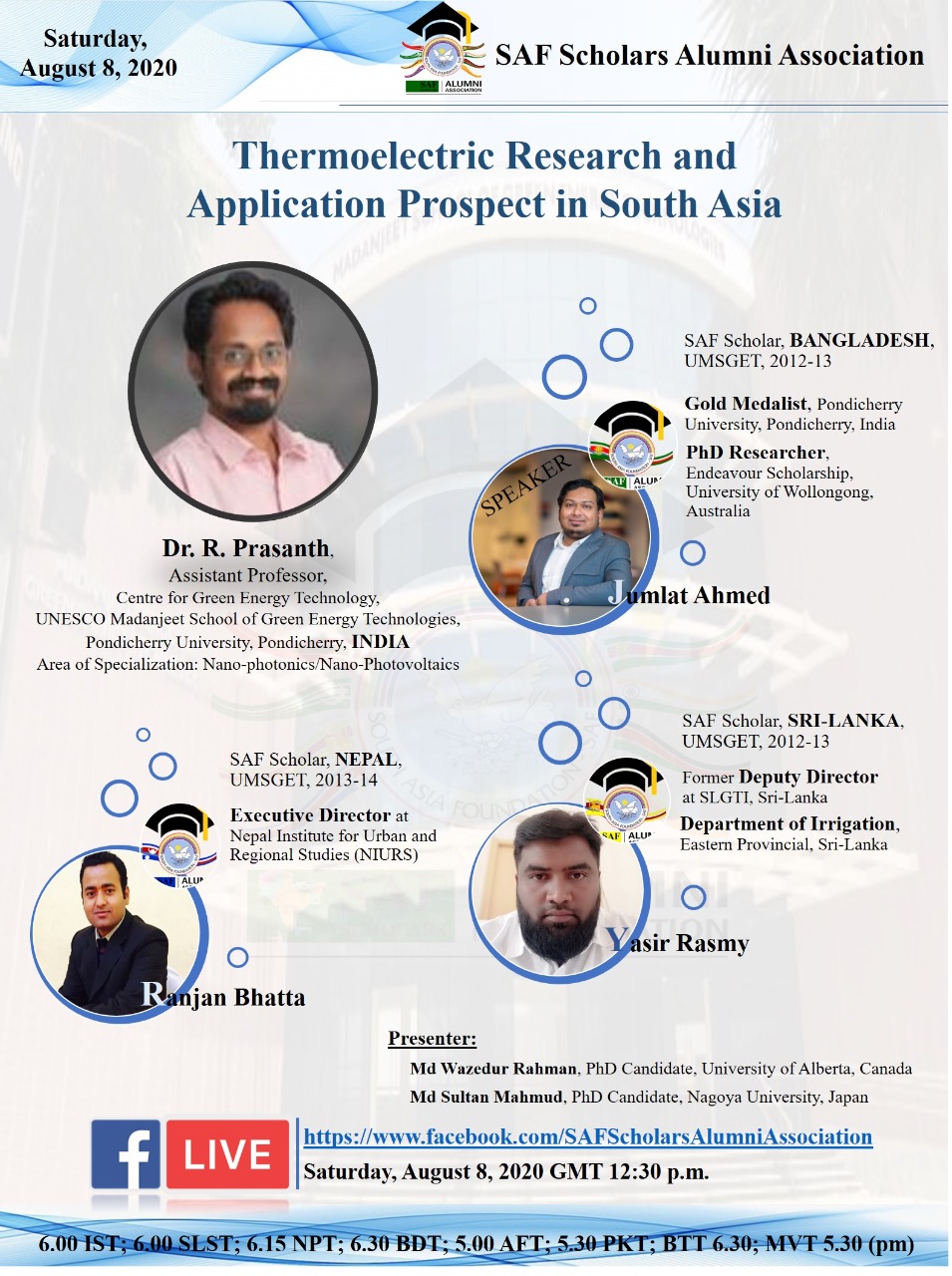 Read more about "UMSGET"...