UMISARC 1st Batch Scholars with Prof J A K Tareen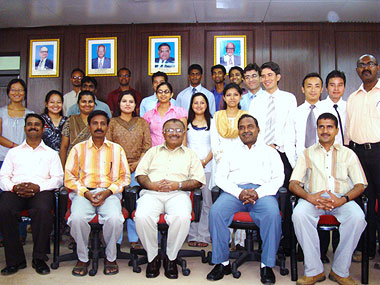 Prof. N.K. Jha has joined as Director, Madanjeet Singh Institute of South Asian Regional Co-operation.
CENTER FOR SOUTH ASIAN STUDIES SCHOOL OF SOCIAL SCIENCES AND INTERNATIONAL STUDIES
The M.A. (South Asian Studies) program has started with 20 students, following the names of 12 SAARC Students who joined the Madanjeet Singh Centre (MISARC) along with their group picture, surrounding Prof. Tareen, Vice Chancellor and the Academia M.A. South Asian Studies.

Selected candidates under Ambassador Madanjeet Singh Group Scholarship for the Academic Year 2009-2011
1. Mr. M I L De Zoysa - Srilanka
2. Ms. Deepanjalie Abeywardana - Srilanka
3. Mr. Mohammed Sharif - Afghanistan
4. Mr. Rahmatullah - Afghanistan
5. Ms. Tanzia Anjum - Bangladesh
6. Mr. Abu Saleh Md. Yusuf - Bangladesh
7. Mr. Samten Lhedup - Bhutan
8. Ms. Januka Dhalal - Bhutan
9. Mr. Tenzing Sherpa - Nepal
10. Mr.Phurba Tenzing Sherpa - Nepal
11 Mr. Kankipati Rajesh - India
12 Ms. Sneha Chotai - India
---
Read more about "UMISARC"...