Mr Sunil Sapkota, Scholar, UMCSAFS receiving Certificate of participation from Dasho Paljor J. Dorji, President of Bhutan
The Bhutan Ecological Society (BES) successfully hosted its Third Annual Research Symposium & Environmental Fair on 27-29 August in Thimphu, Bhutan. The 3-day education and outreach programe drew large crowds and great public interest, thanks to the support and active participation of Thimphu schools and 21 organizations including universities, government agencies, green businesses and CSOs.
Her Royal Highness Ashi Chimi Yangzom Wangchuck, the Royal Patron of society, opened the programme on 27 August with a welcome speech emphasizing the importance of economic growth hand-in-hand with protecting the intact ecosystems that Bhutan's forefathers gifted to all future generations.
The Bhutan Ecological Society was started in 2010 by the Ugyen Wangchuck Institute for Conservation and Environment. Under the active leadership of its President Dasho Paljor J. Dorji and Royal Patron HRH Ashi Chimi Yangzom Wangchuck, BES has grown to become a consortium of more than 720 members from 9 countries, with a common vision for an environmentally sustainable future. Bhutan Foundation has been the primary sponsor for the Society since the inception of BES.

UMCSAFS students, Mr. Sunil Sapkota presented a poster during the symposium. Mr. Sunil is from Nepal and he is enrolled in B.Sc Forestry course in the cohort of 2015 - 2019 batch.Below is the photo of Mr. Sunil receiving certificate of participation from the President of Bhutan Ecological Society (Dasho Paljor J. Dorji) and a poster presented by him.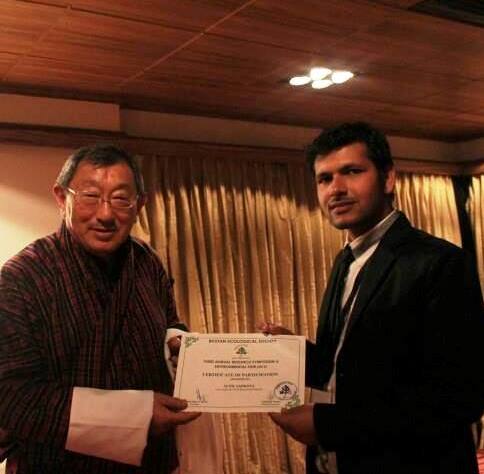 Mr. Sunil Sapkota receiving Certificate for participation from the President of Bhutan Ecological
Society (Dasho Paljor J. Dorji)
Presentation by Mr Sunil Sapkota, Scholar, UMCSAFS
---