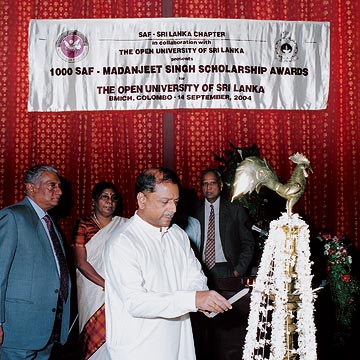 The vice-chancellor of the Open University of Sri Lanka, Uma Coomaraswamy, said that the scholarships had given a tremendous boost to the rural, marginalized students who otherwise could not access the University due to their inability to pay fees for courses.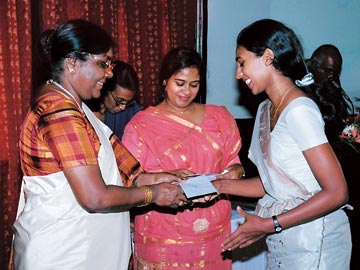 The SAF Madanjeet Singh scholarship award ceremony in Colombo was conducted by Lakshman Kadirgamar (Foreign Minister of Sri Lanka and Chairperson of SAF Sri Lanka Chapter), after the Deputy Minister of Higher Education, Dinesh Gunawadene, inaugurated the event by igniting the traditional oil lamp.

Vice-Chancellor of Open University of Sri Lanka, Uma Coomaraswamy, handed over part of the 1,000 scholarship certificates for Sri Lanka to the first batch of needy and socially these disadvantaged students on 14th September 2004, at the Bandaranaike Memorial International Conference Hall, Colombo.