The India Pakistan Conference, 10th-12th January 2010, India International Centre,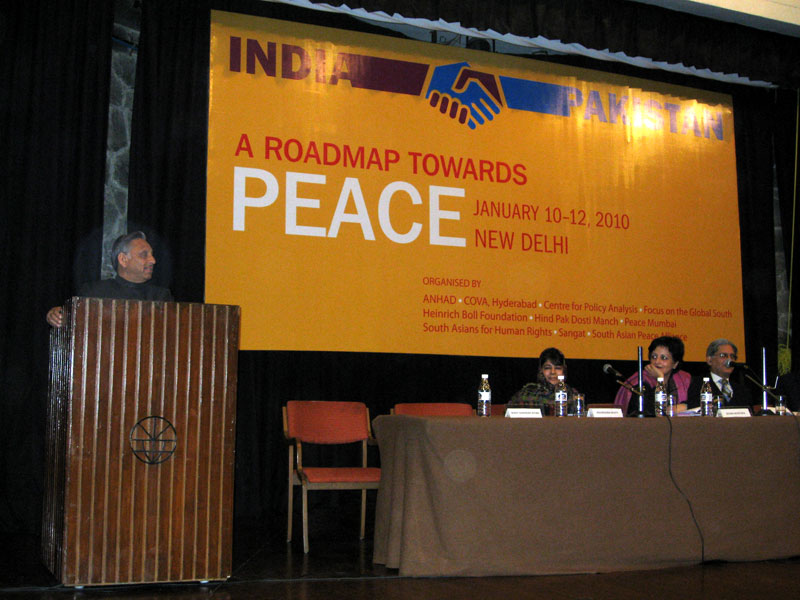 Justice can never be separated
Mani Shankar Aiyar (SAF-India Chairperson)

It is the government's role to make war or peace with any nation. It is an irony to know that India has excellent relations with Paraguay but not with Pakistan which is the country's immediate neighbor. Intermittently, there are talks with Pakistan when it is least required and on a contrary no talks happen when it is truly important. The diplomatic dance between India and Pakistan has been going on for years and it always happens that if India takes one step forward it has to take two steps backward later for certain.

This has been the greatest deterrent in Indo-Pak relations till today. It was a gross mistake on India's part to enter the nuclear weapon race which automatically instigated Pakistan to become a nuclear power. One must remember that the world's greatest human tragedies are not calculative but accidental in nature. For instance, the First World War was not a planned war but occurred due to the blind love of Archduke Ferdinand with his wife.

The fact is that nothing can prevent a war. We have been dealing with the mechanics for years and not exactly looking for solutions to the existing problems. There should be uninterrupted intergovernmental dialogues on a priority basis. There are many hostile elements which play a negative and destructive role and become a factor in the occurring of wrong things. Terrorism is one of the significant issues which need government attention to find a solution.

Since 26/11 things have got worse with India Pakistan bilateral relations. As a solution the Wagah-Atari border should be opened for round table talks so that the delegates from both the country can meet without leaving their respective countries and discuss important issues. Replicating the way the Americans and the Vietnamese delegations met every Thursday in Hotel Majestic during the Vietnam War. The India Pakistan border talks should include mutual issues of concern and grievance in the discourse.

There should be a single interlocutor rather than eight to ten dignitaries of equal stature discussing the problem. It is a hope that once such dialogue is permitted a solution to every existing problem in the bilateral relations will be reached as both nations understand each other due to shared cultural and historical ties.