Mr Koshal Hamal, Alumni of UNESCO Madanjeet Singh Institute for South Asian Arts (UMISAA) Art work is being exhibited
News
The India Art Fair, Exhibition Grounds, Okhla Industrial Estate, Delhi, India
- 2nd February 2017

Koshal Hamal, Visual Artist, and SAF, UMISAA Alumni's works are engaged in a synthesis of appropriation, combining Western visual culture with the historical references of South Asian aesthetics-including miniature painting. His appropriations are deeply layered and nuances, interrogating established norms-social, political, and aesthetic-where can break down binary and categories into something new. His works reveal a deep desire of visual play weather through his exquisitely refined miniature painting technique to conceptual installations that provides nuanced narratives of the local and global.

Born in 1988 in Mugu, Nepal, received BFA (2011), MA in Art and Design from Beaconhouse National University, Lahore (2014), on a South Asia Foundation Scholarship. Hamal's work was awarded as one of the best awards for young artists by Lahore Art Council (2012). Hamal's works have been selected in several South Asian art exhibitions nationally and internationally, including "New Selections: South Asia", Thomas Erben Gallery, New York (2012), "Day After Tomorrow", Alhambra Art Gallery, Lahore (2012) and "South Asian Artists: Imagining Our Future Together", Dhaka, New Delhi, Washington D.C. (2012), Co Creative Connections 4, Galeria Geraldes Da Silva Rua Santo lldefonso, Portugal (2015). Hamal currently teaches at Tribhuvan University, Fine Art Campus.



From Left to Right: :- Mrs Rupika Chawla, Art Restorer; Dr Dina Bangdel, Executive Board Member, Nepal Art Cuouncil; Mr Navin B Chawla, Former CEC of India & Advisor, Madanjeet Singh Foundation; Mr Koshal Hamal, SAF UMISAA Alumni (Batch of 2014), displaying Art work


Left to Right: - H.E. Mr. Deep Kumar Upadhyay, Nepalese Ambassador to India with Koshal Hamal, Artist, & Alumni UMISAA (Batch of 2014) displaying Art work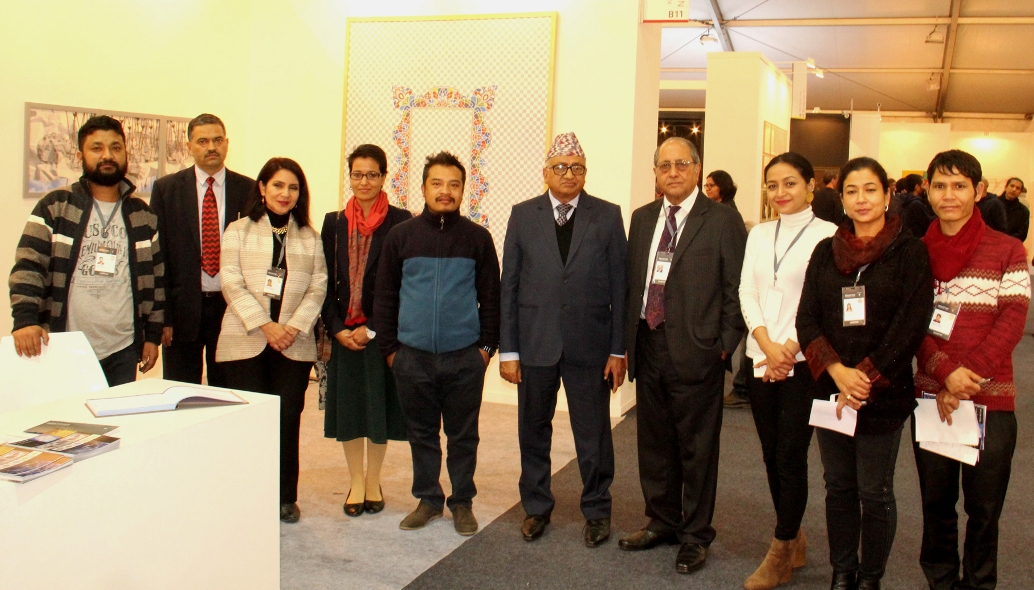 Group Photograph with H E Mr. Deep Kumar Upadhyay, Dr Dina Bangde, Curator & Executive Board Member; Mr Sagar SJB Rana, Vice Chairman, Nepal Art Council with other Artists & officials.




Public visiting Nepal Art Council Gallery at the Indian Art Fair 2-5 Feb, 2017
---