An agreement was signed in 2004 between South Asia Foundation ("SAF") and SOS-Kinderdorf International to grant scholarships.
SAF Madanjeet Singh Scholarships - Year 2005
South Asia Foundation (SAF), a voluntary organization seeks to promote cooperation, peace and progress through education and sustainable development among the people of South Asia.
Founded by UNESCO Goodwill Ambassador Madanjeet Singh, its eight chapters are registered in the SAARC countries.
SOS-Kinderdorf International is today probably the largest private child welfare organization working in 132 countries around the world.

The aim of the organization is to provide "TOTAL CARE" to orphan and destitute children in a family environment. In every country we work through a member association.

The SAARC countries where we have member organizations are Bangladesh, India, Nepal, Pakistan and Sri Lanka.

Apart from SOS Children's Villages, we also run various other projects like SOS Kindergartens, SOS Schools usually named after founder father late.

Prof. Dr. Hermann Gemeiner and popularly known as Hermann Gmeiner Schools, SOS Vocational Training Centres, for Youth from within the SOS Villages as well as from weaker sections of the society.
SAF Madanjeet Singh Scholarships for Postgraduate programmes and Vocational Training programmes for the marginalized South Asian students with social and economic disadvantages were granted to the youths of all the SAARC countries who are members of SAF in the year 2005.

These scholarships were usually granted through number of reputed universities of the said countries.
In the year 2004 for the first time SAF & SOS decided to cooperate with each other in various fields and also to jointly strengthen the peace and co-operation among the SAARC countries.

As a result an agreement was signed between Ambassador Madanjeet Singh Chairman of South Asia Foundation (SAF) and Siddhartha Kaul Deputy Secretary General for Asia SOS-Kinderdorf International on 1st August.

In this agreement it was agreed that out of the total scholarships allotted by Ambassador Madanjeet Singh to SAARC Countries 750 will be exclusively granted to SOS Children's Villages in SAARC countries every academic year.

As stipulated above among the SAARC countries SOS Children's Villages are in Bangladesh, lndia, Nepal, Pakistan and Sri Lanka.
Hence a specific number of scholarships were allotted to each country taking into account the size and population of the respective country and the agreed upon breakdown by Ambassador Madanjeet Singh is:
Total beneficiaries of SAF-Madanjeet Singh Scholarships:
Bangladesh: 189 - India: 251 - Nepal: 58 - Pakistan: 100 - Sri Lanka: 10
Beneficiaries not from SOS at VCT, Bagerhat, Bangladesh.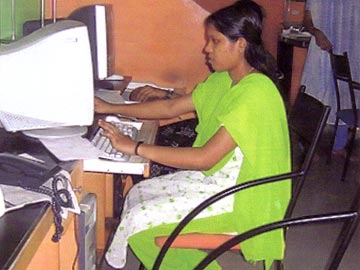 Swapna from SOS CV Thrissur, India
The scholarship programme was open to Youth of all the member countries of SAF. In specific Youth following vocational training at the facilities run by SOS Children's Villages and youth nominated by SOS Children's Villages to follow vocational training at recognized institutions as well as higher education through distant learning via open universities of South Asia.

Apart from SOS Children, SOS Children's Villages form every country also identified and selected students from economically and socially disadvantaged backgrounds who could benefit from Madanjeet Singh Scholarships.

In its efforts to reach the needy students SOS Children's Villages was only able to reach out to only 509 students out of the allotted 750 scholarships.
Phuntsok Tashi, Nepal
Students from VTC Monaragala, Sri Lanka